We Talk With Charlie King - Wolf's Supply Chain Coordinator
We recently spoke to Charlie King, Wolf's Supply Chain Coordinator. Who works closely with our suppliers and helps Wolf with sourcing components and warehouse logistics.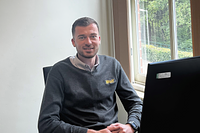 Tell us a little bit about your background before joining Wolf
I joined Wolf straight after doing my A-levels (Psychology, Maths and PE), as an apprentice, for which I did an NVQ in manufacturing operations. My main work experience before joining Wolf was working for a year at Pizza Express in Meadowhall – the big shopping center in Sheffield.
Tell us about your current role at Wolf and what you enjoy most about it
My official title is Supply Chain Coordinator, basically I manage the whole process of sourcing, supplier relationships, warehousing, logistics. You name it, I do it!
What do I like most? I'd say it's the people I manage – Michael and Dylan, we're a good team; they get on with everything and we have a laugh. I think that's the main thing that makes coming to work so enjoyable.
What is the hardest part of your role
I'd say it's sourcing components. During the COVID crisis, a lot of components became unavailable, and those that were available suddenly became much more expensive. Sourcing them at both the right price and at the right time for production was a huge challenge.
How did Covid affect your role
As well as the difficulty in sourcing components, it was a big change not being able to meet colleagues and suppliers in person. I'm very much a face-to-face person, I'd rather see somebody if I can than communicate by email, and it was much more difficult to build relationships. So, like everybody else, I took advantage of Teams – and it had some advantages, I could speak to suppliers without having to travel for up to 2 to 3 hours.
How do you think what you do helps contribute to Wolf's success?
That's a good question! Well, we all play our part, of course, but if I and my team don't get it right, manufacturing could grind to a holt! We're the first part of the chain – we have to ensure that we get all the components in to Wolf at the right quality, quantity, time and price. If we get any of those wrong, there could be consequences further down the line
Can you describe a typical day?
I don't really have a typical day, if I'm honest. I could spend all day at my desk, writing emails or attending meetings, or I could be more involved in sorting things out in operations. Today, for example, we've been unloading a lorry for an hour. But, typically, I might have a couple of meetings a day, lot of email communication, both with suppliers and different departments within Wolf.
I work very closely with other departments within Wolf; especially Sales, Finance and Manufacturing. That's probably another reason why I enjoy my role so much, it's not just the same thing every day.
What are your biggest achievements within Wolf?
Number 1 would be completing all my exams, I am currently in process of becoming a Chartered member of the CIPS [Chartered Institute of Procurement and Supply], which has taken around 3 years. And of course, getting promoted to manage the Supply and Procurement team here at Wolf.
On a personal note, what are your hobbies outside of work?
I'm sports mad! And very sociable, too! I play football and golf, go to the gym and socialise with friends and family too. I coach an under 11s football team, which I've done for 4 years, and referee at a semi-professional level, which takes up most Saturdays, and Tuesday nights as well, sometimes. I'd say refereeing is probably my number 1 hobby, and it's something I would like to take further, if I can.
What made you get into refereeing?
I've always loved the game, and when I realised that I wasn't going to be good (or fit) enough to play it professionally I decided to try referring. I started when I was 14, for pocket money initially. I was playing for a local team when my dad, who was chairman of the club, volunteered me to referee some of the younger teams. I used to get around £60 - £80 every Sunday, which I saved until I was about 17 or 18, but then spent it on holidays or going out!
What do you like/dislike about it?
The pros are that you get to meet a lot of people, from all over the country and even the world. You get to speak to and learn a lot from other referees, as well as experience different cultures, which is great!
As well as being involved in the game at a high level, which not many people get the opportunity to do, I've got the best view in the house as I'm in the middle, watching some really good players. And of course it's good for keeping fit - both physically and mentally, as I'm not the sort of person to sit around all day, I need to be doing something, and referring helps me get away from day to day things.
The negatives would have to be when I get idiots shouting at me when they don't agree with my decision, as well as the travelling – the area I cover can involve travelling for up to 90 minutes each way, so a match can involve up to 3 hours travelling, there and back.
I also have to make sure that I go to bed at the right time and eat the right foods. Overall, it's a big commitment and a bit of a sacrifice to be away from my friends and family.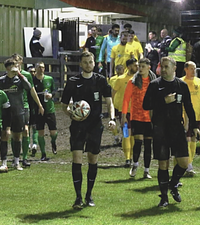 You must have some funny stories?
I do, lots of them. One sticks in my mind from 6 years ago, when I was just 18. I was refereeing an under 12s match when one of the players was fouled and injured. I gave the foul, but his dad came on to the pitch shouting and insisting that I should send the other player off. Then the boy's mother came on to the pitch, too, and she started having a go at me as well! I told them to get off the pitch so I could deal with the situation, but when they did one of the parents from the other team told the father to 'Shut Up' and it quickly got out of hand with the father taking his jacket off and wanting to start a fight... At half time, I had to step in again as the father and his son's team's manager were furiously arguing with the other manager… Anyway, to cut a long story short, I ended up having to abandon an under 12s game, with things only calming down when the father left carrying his son off to hospital. Funnily enough, I saw him a week later and he behaved as if nothing had happened…
Thank You Charlie! It was great speaking to you!
"I manage Wisewood Juniors Under 11s and have been involved in coaching for 8 years. I have passed my UEFA C coaching badges and hoping to do my UEFA B in 2024. Wolf have kindly sponsored my team twice (U11s and U8s) to help pay for kit and equipment. We play on a Sunday and train on a Wednesday, and I find it really rewarding coaching the youngsters and seeing how they progress through the years. We have won leagues in the past and also helped players develop into an academy environment." Charlie King