We Talk With Duane Gosling - a member of Wolf's Despatch Team
We've been talking to Duane Gosling, a member of Wolf's Despatch team - the vital last link in the chain that ensures our partners and customers orders are picked and packed correctly and efficiently before being despatched to all 4 corners of the globe. Duane is a fairly new member of the team, having joined Wolf in April, 2023.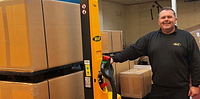 So Duane, tell us a little bit about your background before joining Wolf
I've had a number of jobs before joining Wolf, including being a self employed window cleaner for 12 years! And yes, there are many funny stories, but it's probably best if I don't go into them! During my 12 years of window cleaning I was also a single parent, which was hard at times. Anyway, I hung up my ladders for the final time and became a delivery driver, but shortly after that I got the opportunity to join Wolf.
What's your role at Wolf, and what do you like most about it?
I work in Despatch, which means I help pick and pack all of our customer orders, before weighing them ready for collection for shipping.
I get a great deal of satisfaction in packing orders as efficiently as possible, using as few and as small boxes as possible to help keep both the shipping cost down for customers and to save packing materials wherever possible. We are very environmentally friendly here at Wolf!
What do I like most? I find that because every parcel is different, with different products, all different weights and sizes, my job doesn't get repetitive or boring. I also like the people I work with, we're a good team and we can have a laugh, which always makes coming to work more enjoyable!
Why did you decide to join Wolf?
Everybody at Wolf always says how amazing the company is. When I joined I quickly realised it's everything that people say it is! Everyone works together, helping each other out when needed. The team work within the company is amazing!
What is the most difficult part of your role?
I think the most difficult part of job is actually remembering which labels to put onto which orders for lithium batteries. Wolf sell worldwide and there's different labels for different countries which can make it hard to remember sometimes!
What (if anything) makes Wolf stand out from other companies?
Wolf's different from any other company I've ever worked for! As a company, Wolf listen to you and don't treat you as if you are just a number - and that's different from other firms I've worked for. Everyone in the Wolf team is welcoming, kind and genuine - they're great people to work with.
Can you describe a typical day?
A typical day for me at Wolf is a day that's extremely busy, with lots of orders coming in - so I'm never clock watching! I enjoy listening to my rock music whilst I pack orders as well.
What are your hobbies outside work?
Outside work I regularly go mountain biking, which is something I've been doing for a while now and I really enjoy it. I also enjoy fishing, even though at the moment I don't go as often as I would like to.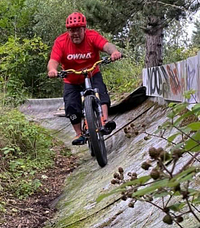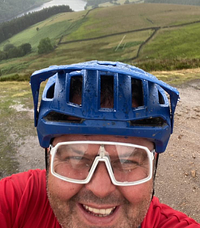 What is the most nerve-wracking thing that you have ever had to do
Within my whole life? I think that bringing my daughter up as a single parent was quite challenging.
And Finally, do you have any secret talents.
I don't know whether you'd class this as a talent but I play the guitar, which I've played ages for ages, since I was 15 in fact.
My Dad enjoyed his guitar playing, so much so that he actually named me after a famous American guitarist, 'Duane Eddy'.
I've built up quite a collection of guitars and at the moment have 18. I've also got a ukulele, a banjo and a harmonica, but I don't know how to play those!
Thanks Duane, it's been great speaking with you!
"I've been going fishing since I was 18, so about 25 years altogether, and I only stopped during the COVID pandemic in 2022. Before stopping, I took up 'Match Fishing,' which is competitive fishing - which I did to a decent level and even won quite a bit! I've fished locally, all around the Sheffield and Doncaster area, as well as in and around Cornwall. I've been all over really" Duane Gosling