Changing to Airlamps Significantly Reduces Downtime at a US Mine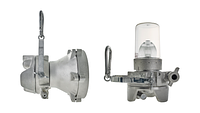 "Changing from electric lights to Airlamps has reduced downtime and increased efficiency at the mine substantially." Jim Reeves, Safety Lamp of Houston.
Climax Molybdenum Co., a subsidiary of Freeport-McMoRan, is the world's leading molybdenum producer and supplier. At their mine in Henderson, Colorado, the Molybdenum is extracted and transported by conveyor system 15 miles through the mountain to the mill for processing. Molybdenum is used in a variety of metallurgical and chemical products.
Previously, electric lights were used in tunnels for the mucking operations, with electric cables running down the main shaft and along the tunnels to the lights. However, during blasting operations the electric cables were often severed, rendering the lights inoperative and causing costly delays in terms of replacing the ever more expensive copper wire as well as lost production time. The head of the electrical department decided to find a more cost-efficient solution to the problem and consulted with Wolf Safety's partner in the United States, Safety Lamp of Houston (www.safetylampofhouston.com).
With compressed air already being constantly sent down the shaft for other operations, the perfect solution was found in the Wolf Turbolite, a high powered compressed air driven lamp with light output of up to 9,000 lumens. With hooks being screwed into the roof of the tunnels, the lamps could be hung from them and plugged in to the supply hose. Furthermore, the hose could be left in place during blasting and should it get cut, could easily be spliced together in a matter of minutes, avoiding costly production downtime.
The only problem faced was the issue of condensation (caused by compressing air at 12,000 feet and sending it down metal ductile pipes for nearly a mile into the ground where the temperature is a cool 50°F) which could create rust and risk damage to the light. This was solved by inserting a double filter unit attached to each lamp between the connection to the light and the connection to the air hose. The filters could then be cleaned at the same time the bulbs were replaced, a solution that proved successful. As new operations were opened up, the ATEX Turbolite, which has a sealed bearing, was purchased and used to further reduce the risk of rust and extend the life of the lamp.
The Climax Henderson mine continues to use Wolf Airlamps and since 2009 has purchased nearly 150 Turbolites and ATEX Turbolites. They have trained personnel on site to maintain the lights.
For full information on Wolf Airlamps, please see: https://www.wolfsafety.com/temporary-lighting/airlamps