About us
Wolf Safety is the world's leading manufacturer of hazardous area Portable, Temporary, and Installed lighting, offering the widest range of ATEX and IECEx certified explosion protected lighting and power distribution systems designed in the United Kingdom for safe use in potentially explosive atmospheres worldwide.
Welcome to Wolf Safety, where innovation, expertise, and a relentless commitment to safety converge. Established over a century ago, we have since then been at the very forefront of safety lighting solutions for hazardous environments. With a rich heritage steeped in industrial safety, we've evolved to become a global leader in the design and manufacture of Portable, Temporary and Installed lighting for safe use in potentially explosive atmospheres. Our journey is a testament to our unwavering dedication to protecting people and assets in some of the world's most challenging working environments. Explore our history, mission, and the core values that drive us as you delve deeper into the world of Wolf Safety.
Our ATEX approved Hazardous Area lighting ranges include:
Wherever an explosive, gas, vapour, mist or dust is present, creating a potential risk of explosion, Wolf Safety has a light with the concept of protection for Zone 0, 1 and 2 to ensure safety.
Such situations can be found in offshore oil and gas, marine vessels, refining and petrochemical industries, food processing, pharmaceuticals, breweries and distilleries as well as firefighting, water treatment and gas distribution. For more info, visit our Sectors webpage.
Wolf Safety is committed to all aspects of quality management by maintaining a management system that satisfies the requirements of, and is certified by an accredited body to the latest International Standard BS EN ISO 9001:2015, plus the additional requirement of BS EN ISO/IEC 80079-34:2020 Potentially Explosive Atmospheres - Application of quality systems for Ex product manufacture, and actively encourages the process of continual improvement within all functions.
Brief History
Wolf was established in Sheffield in 1912 as a manufacturer of safety lighting for mining applications
In 1933 Wolf purchased a large property in Saxon Road, Sheffield and set up a "New Model Factory" - our home right up to today
The company re-focussed in the late 1970s, targetting industrial markets with its ever-growing safety lighting range for safe use in potentially explosive atmospheres
Wolf Safety's ATEX lights are now used in virtually every country in the world
In 2019 Wolf was appointed the exclusive UK distributor for Ramfan, the market leading manufacturers of fans and ventilation products for safe use in hazardous areas
A high-tech ATEX LED Installed lighting range was introduced in 2021 to complement the existing market leading Portable and Temporary Hazardous Area lighting ranges
Wolf has over 40 years' experience in the manufacturing of explosion protected lighting
A plaque on the wall of our Saxon Road Works commerates the visit by H.R.H. The Earl of Wessex in 2012 to celebrate Wolf's 100 year anniversary and illustrates our rich heritage in industrial safety.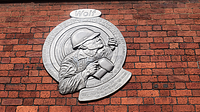 SOME KEY FACTS ABOUT WOLF SAFETY
Widest range of ATEX approved lighting

Wolf has the widest range available of ATEX, IECEx and UKEX approved lighting for safe use in Potentially Explosive Atmospheres

Legislative Compliance

Wolf Safety is committed to continuing to lead on legislative compliance for all Wolf EX products we sell in the UK, the EU and around the world.  Every Wolf EX product will be tri-rated with UKEX, ATEX and IECEx marking

Global Availability

Wolf products are available throughout the world through our global distributor network

Certification

All Wolf products are certified to a minimum of Zone 1 IIC T3

Innovation

We use the latest and most advanced technology to develop safer, more innovative and reliable products

Zone 0

By utilising the latest developments in LED technology, we have been able to develop a wide range of Zone 0 lighting products

Continuous Improvement

It is our policy to continually improve and develop our product ranges to ensure we can offer the safest and best Hazardous Area lighting solutions possible

Quality and Environmental Management

ISO 9001 and ISO 14001 certification by an accredited body

Living Wage Employer

Wolf Safety is Living Wage Employer, accredited by the Living Wage Foundation