CHARGER C-251 LV/HV/HVE
C-251 HV/LV/HVE chargers are for use with the Wolflite H-251A\LED Rechargeable and Wolflite H-251MK2 Handlamps.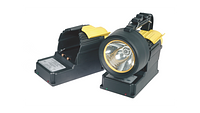 Product Information
Batteries are charged internally in these products via charging studs on the base of the handlamp. The chargers are designed to hold the handlamps while charging enabling the handlamps to always be ready for use.
The C-251 HV is for use at mains voltages of 230 volts or 120 volts, selectable by voltage changeover switch, also available with a European 2-Pin Plug
(C-251 HVE).
The C-251 LV is for use in vehicles at low voltages of between 12 and 32 volts.
All chargers may be used free standing or can be bench or wall mounted.

IMPA Code
33 06 09 - C-251HV
33 06 10 - C-251HVE
Technical Information
PRODUCT REFERENCE
C-251 LV
C-251 HV
PRODUCT DESCRIPTION
Low Voltage Handlamp Charger
High Voltage Handlamp Charger
APPARATUS STANDARDS
EN 60 335
INSULATION CLASS
III
II
ENCLOSURE
Polypropelene
INPUT VOLTAGE
12-32Vdc
120/230Vac*
RECHARGE TIME
10-12 hrs at 24v
8-10 hrs
INGRESS PROTECTION
IP20
WEIGHT (WITHOUT HANDLAMPS)
0.5 kg
0.75 kg
MOUNTING
All chargers may be wall or bench mounted
COMPATIBLE HANDLAMPS
H-251 MK2 / H-251ALED
All information has been gathered under laboratory conditions, the user must regard the values given as approximate. Changes may be made to the above specification without notification, details are available on request.
C-251 HV is also available with a European 2-Pin plug - Model No. C-251HVE
*C-251 HV may also be powered from 'rig' voltage 254Vac 60 Hz
Downloads
Download file - C-251 LV/HV/HVE Charger Product Information Sheet
Download file - C-251 LV/HV/HVE Charger Instructions
Download file - Wolflite Charger C-251HV C-251LV Certificate
Got a question?
Want to learn more? Just contact us and we'll be more than happy to help!