TOPLITE T3 SEARCHLIGHT CHARGER
The TL-9054T3 Toplite T3 Searchlight Charger is a charging solution to be used with the TL-9055T3 & TL-9050T3 Toplite T3 Searchlights.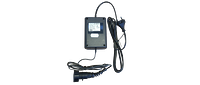 Product Information
The Chargers are 'lead in, lead out' style, for use on mains AC voltages of 230 Volts at 50-60Hz. Charging is fully automatic and takes approximately 16 hours, after which it steps down to a trickle charge state, allowing the lamp to be left on charge continuously. The Chargers are CE marked in compliance with the Low Voltage Directive and the EMC Directive, a declaration of conformity is available on request. The Toplite TL-9050T3 and TL-9055T3 Lamps must only be charged with the specified Toplite Charger in a non-hazardous area. Do not use the Toplite Charger with any other type of rechargeable system. Charger operating ambient +10°c to +30°c.
Technical Information
| PRODUCT REFERENCE | TL-9054T3 |
| --- | --- |
| PRODUCT DESCRIPTION | Toplite T3 Searchlight Charger |
| FOR NO. HANDLAMPS | 1 |
| APPARATUS STANDARDS | EN 60335 |
| ENCLOSURE | Polypropylene |
| INPUT VOLTAGE | 230V AC |
| PEAK CURRENT | 150mA |
| RECHARGE TIME | 16 hours from full discharge |
| INGRESS PROTECTION | IP20 |
| WEIGHT | 0.7Kg |
| COMPATIBLE HANDLAMPS | TL-9055T3 & TL-9050T3 |
Downloads
Download file - TOPLITE T3 SEARCHLIGHT CHARGER PRODUCT INFORMATION SHEET
TOPLITE T3 SEARCHLIGHT PRODUCT PAGE
GOT A QUESTION?
Want to learn more? Just contact us and we'll be more than happy to help!