WOLFLITE® H-4DCALED HANDLAMP
The new (2022) Wolflite® H-4DCALED primary cell powered LED safety handlamp has been CE marked in compliance with the 2014/34/ EU explosive atmospheres ATEX directive and UKCA marked in compliance with UKSI 2016/1107 UKEX Statutory Instument, for use in a wide range of potentially explosive gases, vapours, mists and dusts.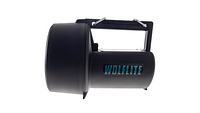 Product Information
H-4DCALED
ZONES: 1, 2, 21 AND 22
BRAND NEW FOR 2022, THE H-4DCALED IS THE BRAND NEW LED VERSION OF THE HIGHLY SUCCESSFUL AND EVER POPULAR H-4DCA
High-Tec and high performance, the brand new H-4DCALED uses the latest state-of-the art high powered LED light sources which have enabled unprecedented performance increases over the H-4DCA:
7 X the light output – an increase from 37 to 269 lumens (at source)
2 X battery duration – an increase from 20 to 45 hours
Constructed from a new, exceptionally robust and highly durable thermoplastic material, the ATEX Zone 1/21 LED lantern is well able to withstand the effects of heavy industrial use.
A 6mm thick, toughened, scratch resistant glass lens with rubber seal, together with a second seal fitted at the lens ring and lamp body joint, ensure that the lamp is highly protected from ingress of dusts and liquids (IP66).
Its anti-static body non-hazardous body material prevents the build-up of potentially dangerous electrostatic charges.
The H-4DCALED is supplied complete with a convenient removable shoulder strap.
Approval

ATEX, IECEx and UKEX certified
Lloyds Type Approval

Performance

Up to 269 lumens light output (at source)
Up to 45 hours battery duration

Robust construction

Robust and highly durable thermoplastic material, well able to withstand the effects of heavy industrial use
Features & Benefits
LIGHT OUTPUT/DURATION/POWER
New long life LED light source with 269 lumens measured at source
Alkaline cell approval giving up to 45 hour duration
CERTIFICATION
Certified for ATEX, IECEx & UKEX. Zones 1, 2, 21 and 22
CE and UKCA marked
Lloyd's Register Type Approved
-10°C to +40°C temperature ambient
T4 temperature class
IP66 ingress protection
FEATURES
LED light source gives increased light output and battery duration
Robust anti-static thermoplastic lamp enclosure
Supplied with detachable shoulder strap
H-4DCALED
Gas Zone: 1 and 2
Dust Zone: 21 and 22
Power: Primary Cell




Product Reference
H-4DCALED
Product Description
Safety LED Handlamp, Primary Cell Powered
Code (ATEX & IECEx)
II 2GD Ex ib IIC T4 Gb
Ex IIIC T135°C Db
Type of Protection
"ib" intrinsic safety
Area of Classification (Gases)
Zones 1 and 2, Gas Groups IIA, IIB and IIC
Temp. Classification (Gases)
T4
Area of Classification (Dust)
Zones 21 and 22
Max. Surface Temperature (Dust)
135°C
Ambient Temperature
-10°C to +40°C
Certificate

ATEX BAS00ATEX2176

UKEX BAS21UKEX0359

IECEx BAS 16.0076

Enclosure
Thermoplastic, Anti-Static
Lens
Toughened Glass (6mm)
Beam Type
Spot
Light Source
Part Number
H-84
Type
New Two-Part LED Module
Watts (Amps)
1.51W
Output (At Source)
269lm
Life
25,000 hrs
Power Source
Part Number
4 x H-20 (LR20)
Type
LR20/R20 Primary Cells to IEC60086
Volts
4 x 1.5V
Light Duration
Up to 45hrs
Ingress Protection
IP66
Weight
1.54Kg (incl. cells)
All information has been gathered under laboratory conditions, the user must regard the values given as approximate.
Changes may be made to the above specification without notification, details are available on request.
Light Output Diagram
2.4W Spot Beam (approx. 3.5°)
Peak luminous intensity at 5m 960 lux
Product Dimensions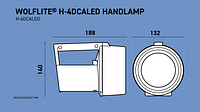 Accessories
Download file - H-4DCALED Handlamp Product Information Sheet
Download file - Wolflite® Handlamp H-4DCALED Instructions (Post 2022 Models)
Download file - Wolflite® Handlamp H-4DCALED ATEX Certificate (Post 2022 Models)
Download file - Wolflite® Handlamp H-4DCALED IECEx Certificate (Post 2022 Models)
Download file - Wolflite® Handlamp H-4DCA Lloyds Certificate
Download file - Procell Battery Range Declaration to 2014/34/EU Explosive Atmospheres (ATEX Equipment) Directive
Got a question?
Want to learn more? Just contact us and we'll be more than happy to help!