LED TORCH MODULE TP-300
The LED Torch Module TP-300 for T4 ATEX Torches retrofits into existing TS/TR-24 and TS/TR-24+ safety torches.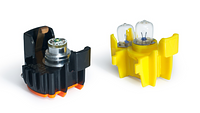 Product Information
This LED Torch Module replacement significantly improves the light output from 17 lumens to approximately 130 lumens with an increase in battery output from 10 to 20 hours
Replacing the existing bulb contact with the LED Torch Module is quick and easy and will preclude the need for bulb changes in the future and ensure an ultra bright light output.
Technical Information
| Product Reference | TP-300 |
| --- | --- |
| Product Description | For use in Wolf torch models:- TS-24, TS-24+, TS-30+, TS-35+, TR-24, TR-24+, TR-30+ & TR-35+ |
All information has been gathered under laboratory conditions, the user must regard the values given as approximate.
Changes may be made to the above specification without notification, details are available on request.
NOT SUITABLE FOR USE IN TORCH MODELS:- TS-26B & TR-26B
Downloads
Download file - LED TORCH MODULE TP-300 PRODUCT INFORMATION SHEET
Got a Question
Want to learn more? Just contact us and we'll be more than happy to help!