DIRECTIONAL LINEAR OPTICS (DLO)
Directional Linear Optics (DLO) is Wolf's revolutionary patented light delivery technology which combines all the benefits of fluorescent and LED technology, whilst eliminating the drawbacks of both.
Wolf's patented DLO technology minimises glare and delivers highly consistent and even illumination.
Directional Linear Optics (DLO) supplies consistent and even light which, as well as reducing glare to a minimum, can help reduce the number of lights required to achieve target lighting levels and reduce ongoing costs

Directional Linear Optics (DLO) technology is highly effective in ensuring that minimal required lighting levels are achieved as economically as possible
Our technical team can provide detailed lighting plans to illustrate the benefits of DLO, clearly showing the advantages that can be obtained by using this innovative technology.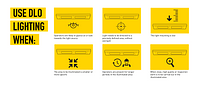 Designed and produced with quality of light as its primary function, DLO technology takes full advantage of the efficiency and cost benefits of LEDs, but with light output that mimics traditional fluorescent fittings, with immediately visible improved light output quality over established LED fittings.
Innovative patented DLO technology:
Is designed to avoid eye dazzle by redistributing the intense LED point source light and emitting it over a surface area 500x larger
Allows light fittings to be safely positioned in close proximity and the within the eyeline of personnel, and direct the light where required, making this technology the perfect replacement for fluorescent tubes
Delivers very high light unformity with minimal glare
Directs light where needed, eliminating unwanted and costly spill – almost 100% of optical output is useful illumination
Has zero colour shift with angle change – absolute colour uniformity
Excellent colour definition and CRI makes it essential in colour critical tasks such as:

Reading labels
Wiring
Electronic assembly
Inspection processes
Maintenance procedures
Human centric benefits:
Human centric lighting has been seen to aid the sense of overall wellbeing in workers and can lead to higher motivation and increased productivity due to reduced eye strain and fatigue through controlled intensity and glare.
The Wolf Installed LMX and LBX luminaires using DLO LED technology employ patented Directional Linear Optic rods, efficiently collecting light from Wolf's LEDX high intensity LED sources, dispersing then emitting that light over the Optic rod major projected surface, maintaining high lumen levels but reducing light intensity by a factor of 500 times, to a low intensity, eye-friendly light.
This high lumen, low intensity light produced by Wolf DLO LED Technology is ideal for use in localised and close proximity lighting applications, including control areas, manufacturing locations and access routes, minimising risk of debilitating glare caused by established high intensity Ex LED luminaires.
Products which utilize Directional Linear Optics (DLO):
Directional Linear Optics (DLO) LED technology is available as an option in the LMX2 (2ft) and LMX4 (4ft) Linear Luminaire models, and is fitted as standard in the LBX Bulkhead, including emergency versions of all of these models.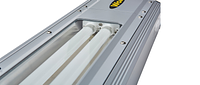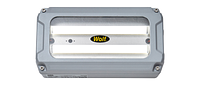 Got a question?
Want to learn more? Just contact us and we'll be more than happy to help!