VENTURI CONES
Pneumatic (compressed air) or saturated steam powered venturi cones for safe use in adverse or explosive atmospheres when used with optional static grounding cord.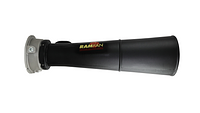 Product Information
VF-RV760S, VF-RV760, VF-RV1500
Requires minimum maintenance. Cones are crush and dent resistant. Cylindrical mixing chamber delivers higher induction ratios and fits standard API 3" (7 cm) and 6" (15 cm) openings.
Features and Benefits
Minimal maintenance - no moving parts
Cylindrical mixing chamber delivers higher induction ratios
Highly reliable
Fixed standard API openings
Tough and durable anti-static polymer housing
Product Reference
VF-RV760S
VF-RV760
VF-RV1500
Materials
Anti-static, Polyethylene Cone
Dimensions (d/h)
13 x 41 cm
20 x 84 cm
30 x 41 cm
Weight
2kg
3kg
9kg
Inlet Connection
12.7mm NPT
25.4mm NPT
Flange
API 76.2mm, (167mm BC)
API 152.4mm (167mm BC)
40PSIG Inlet Air
Free Air
810 cfm (1,377 m³/hr)
1,001 cfm (1,702 m³/hr)
2,740 cfm (4,658 m³/hr)
Air Consumption
22 cfm (37 m³/hr)
59 cfm (100 m³/hr)
Induction Ratio
37:1
46:1
47:1
80PSIG Inlet Air
Free Air
1,180 cfm (2006 m³/hr)
1,439 cfm (2,446 m³/hr)
3,329 cfm (5,659 m³/hr))
Air Consumption
58 cfm (99 m³/hr)
124 cfm (211 m³/hr)
Induction Ratio
20:1
25:1
27:1
Air Consumption and Horsepower Requirements for Air Compressor*
Air Pressure (PSIG) Inlet Air
80
Air Consumption scfm (m³/hr)
58 (99)
124 (211)
Compressor Hp (PS)
9.3 (9.43)
19.8 (20.08)
Download file - Venturi Cones Product Information Sheet
Got a question?
Want to learn more? Just contact us and we'll be more than happy to help!