RECHARGEABLE TORCH CHARGER BANK
The Wolf Rechargeable Torch Charger Bank provides a solution to charger mounting and space management as the 100-254VAC or 12-24VDC banking system allows easy recharging and storage for the Wolf Rechargeable Torch range.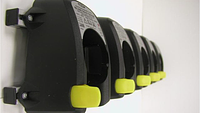 Product Information
Installation is simple and quick; all mounting points are linear adjustable providing extra flexibility in tight areas. There is only one electrical connection to the Charger Bank helping keep wiring and cable running tidy and quick.
The Charger Bank is produced from lightweight anodized aluminium with fine grade stainless steel/chrome fixings for long life. Operationally the Charger Bank will provide quick charging times for each torch of 90% charge in 1.5 hours and 100% full charge in 3 hour.
In vehicle applications, this unit exceeds the requirements of EN1789:2000 6.3.5 (Medical Vehicles and their equipment) giving torch retention in shock conditions of up to 40G (EN1789 requires 15G).
The chargers are CE marked in compliance with the 2004/108/EC EMC directive and comply with the requirements of 2006/28/EC Automotive EMC directive for use in emergency vehicles.
The Charger Bank is designed for indoor and internal vehicle use and can be mounted in a number of orientations. The torch indicates state of charge; the charger base indicates power to input.
Technical Information
Product Reference
RC-203
RC-204
RC-205
RC-303
RC-304
RC-305
Product Description
Rechargeable Torch Charger Bank
For No. Torches
3
4
5
3
4
5
Apparatus Standards
BS EN 1789:2000 Medical
Vehicles and Equipment 6.3.5
Insulation Class
III
Enclosure
Thermoplastic
Input Voltage
12-24VDC
100-254VAC
Peak Current
4.5A
6A
7.5A
4.5A
6A
7.5A
Recharge Time
90% in 1.5hrs / Full Charge 3hrs
Ingress Protection
IP20
Weight
1.3kg
1.7kg
2.1kg
2.2kg
2.6kg
3.0kg
Mounting
Wall Mounted / Flat Surface / Bulk Head
Compatible Torch
R-30 / R-50 / R-55
All information has been gathered under laboratory conditions, the user must regard the values given as approximate.
Changes may be made to the above specification without notification, details are available on request.
Downloads
Download file - Rechargeable Torch Charger Bank Product Information Sheet
Got a question?
Want to learn more? Just contact us and we'll be more than happy to help!