HT-500 RECHARGEABLE HEADTORCH ACCESSORIES
The ATEX HT-500 Rechargeable Headtorch has a range of accessories which allow easier and more effective usage in Hazardous Areas
HT-500/ACCU2

HT-500/5 - Pack of 5 HT-500s with Charging Rack

HT-500/ADPT
HT-500/ACCU2
Very high capacity rechargeable battery, 23.68 Wh, designed for the HT-500 headlamp. Durable and ATEX zone 1/21 (II 2 GD Ex ib IIB T4 Gb IIIB T135° C Db) certified, it also features quick connection to the headlamp and an energy gauge for monitoring the battery's charge level.
HT-500/ADPT
PRO ADAPT consists of two adhesive plates for mounting a HT-500 Headtorch on a helmet, and allows for tilting of the headlamp. The system is especially resistant to impacts and moisture.
HT-500/5 - Pack of 5 HT-500 headtorches with charging rack
As well as the accessories we have to offer, you are also able to purchase a pack of five HT-500 Headtorches - which comes with a charging rack that allows simultaneous charging of five batteries. The HT-500 is a headtorch with a maximum 360 lumens of lighting that runs on a rechargeable battery. It is multi-beam, and has four lighting modes, making it adaptable to every situation: close-range work, proximity, movement and long-range vision. Featuring the FACE2FACE anti-glare function, the DUO Z1 headlamp allows those working in a group to face each other without blinding one another, enabling them to work more effectively together. It can be worn on VERTEX and STRATO helmets, thanks to the included mounting plates. It meets ATEX zone 1/21 (II 2 GD Ex ib IIB T4 Gb IIIB T135° C Db) certification requirements for work in hazardous areas.
HT-500 RECHARGEABLE HEADTORCH PRODUCT PAGE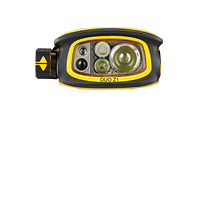 Gas Zone: 1 and 2
Dust Zone: 21 and 22
Power Source: Rechargeable

Download file - HT-500 Rechargeable Headtorch Accessories Product Information Sheet
GOT A QUESTION?
Want to learn more? Just contact us and we'll be more than happy to help!