Elliott Helps the NHS in the Battle Against COVID-19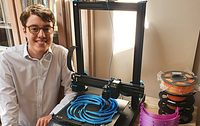 Elliott Gunard, a CAD Engineer at Wolf Safety, is 3D printing vital PPE components for carers and medical staff helping in the battle against COVID-19
On the 1st of April, with the global pandemic creating unprecedented demand for PPE and commercial supplies already exhausted, Elliott received an email from Solid Print3D requesting help in voluntarily 3D printing components for protective Face Shields, which were then to be donated to the NHS and Care Workers in hospices and care homes.
Elliott volunteered to help and was soon 3D printing Headband and Bottom Reinforcement components for the Face Shields – the essential protection carers need to help protect themselves and others from contracting the COVID-19 virus.
3 weeks later and with his 3D printer operating for over 20 hours a day, Elliott has already produced 56 visor kits. Steady improvements to print times and success rates mean that 8 sets a day are now being produced.
He outlined the important role 3D printing is playing in the current crisis, explaining the long development time needed to create additional production capacity using industry standard injection moulding techniques, and adding:
"3D printing the visor components, whilst being more expensive and time consuming than using traditional injection moulding methods, has a very quick set-up time and essentially no set-up cost. It's an ideal way to fill the gap in production until new supply lines have been created and are able to distribute their products effectively"
Elliott is part of the LinkedIn Solid Print3D / Solid Solutions Covid19 Faceshield Group, whose 359 members are extremely active and currently delivering 8,000 – 10,000 fully finished and sterilized Face Shields to health and care workers per week.
Initially Elliott and his family were covering all the costs of this very worthwhile initiative themselves, but when he mentioned it to colleagues at Wolf the company was absolutely delighted with his initiative and immediately offered to support his good work going forward.
Elliott will carry on printing for as long as required, assuming his over-worked printer doesn't give up first!