ESU VENTURES LIMITED Appointed Exclusive Wolf Safety Distributor for Nigeria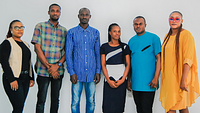 ESU Ventures Limited Appointed Exclusive Wolf Safety Distributor for Nigeria
We're delighted to announce that ESU Ventures Limited has been appointed the exclusive distributor of Wolf Safety Lamp products in Nigeria.
Established in 1989 and based in Lagos, ESU Ventures offers an extensive range of professional products and services to the oil, gas, and associated industries. Dedicated to offering the highest standards of safety and quality, ESU lists many well-known companies amongst its customer base.
Having been a Wolf customer for over 10 years, ESU Ventures Ltd. is well placed to serve the increasing demand for hazardous area lighting products in the Nigerian oil and gas sector and help further develop Wolf Safety sales growth in the country.
Wolf's Sales and Marketing Director, Miles Jackson, said
"I'm very happy to welcome ESU Ventures to our family of worldwide distributors. We've been working together since 2009 and I'm confident this formal appointment will help us go forwards together to further develop our business and the Wolf brand in the increasingly important Nigerian oil and gas market
Nigeria is the 15th largest oil producer in the world, has the largest oil and gas reserves in Africa (with the 9th highest gas reserves in the world) and plans to become a regional hub exporting not only to other countries in the continent, but also to Asian countries including India and China. Internally, the country has significant domestic demand for gas, mainly from the power sector, and is investing heavily in LNG facilities, gas processing facilities, and gas pipeline projects.
Contact information for ESU Ventures Ltd. can be found below:
Address: 31B Oduduwa Crescent, Gra, Ikeja, Lagos, Nigeria.
Telephone: +234-1-629-0525, +234-807-106-6195, +234-906-367-8135, +234-811-368-4641
Email: info@esuventuresoilandgas.com
Website: www.esuventuresoilandgas.com