Q&A session with Wolf Safety's Managing Director, Alex Jackson to mark his 25 years at Wolf.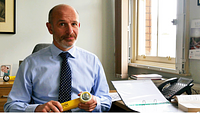 Wolf Safety Managing Director Alex Jackson is celebrating 25 years working for the company. To mark the occasion we asked him about his time working at Wolf.
Q: What was your education and career background before joining Wolf?
A: I completed a sandwich degree course which contained 2 half year placements. In the first six months placement I worked in an architect's office in Edinburgh, and in my second placement I worked here at Wolf.
Q: What roles have you had at Wolf?
A: My first role didn't have a title so I came up with 'Product Development Engineer'. When I first joined there was no Research and Development department – there was a draughtsman and that was it. My role progressed from Product Development Engineer to Technical Director and then to Managing Director.
Q: What have been your favourite and most notable landmarks since joining the company?
A: For me, one of the pivotal points has been the ATEX Directive coming in, the development of the ATEX torch and then the rechargeable torch. I think these have been significant milestones that I have been very closely involved with. Other highlights include securing important contracts for Wolf, both then and now, such as those with the London Fire Brigade, Arco and the RAF. I believe those were all big stepping stones along the way to the continued success which we are now seeing.
Q: What has changed since you started at Wolf?
A: Our turnover has increased a lot! Along with the range of products, which has increased dramatically. I think we're a lot clearer on our position within the industry and as a company; we're much better organised. We also now have a temporary lighting range as well as our portable range. We've basically become a lot more professional and we are very driven to continue improving!
Q: What have been your personal objectives whilst you've been here? Are there any things which you have achieved or are yet to achieve?
A: One big personal objective which I've now achieved is getting my MBA, which I finished last November. It took a lot longer than I thought, but I persevered and achieved it and learnt much in the process – which I now find I apply every day in my role as Managing Director.
Fairly early on in my career I realised I wanted to stay at Wolf, so I'm very happy and proud to have achieved my current position. Continually improving and make the business more professional, both internally and externally, is also something I'm proud of, and I think we've moved a long way towards that now.
Q: How can Wolf evolve and stay competitive with ever-changing industry demands?
A: I think it is long term investment, and committing to continuous improvement. And, of course, keeping close to our customers and the market is essential.
Q: What do you see as the future for Wolf?
A: I don't think that Wolf as a company will grow to be ten or twenty times its current size. I think within the short to medium term we need to think about how to maintain the success we are currently having – and that is actually what we're doing right now. Developing more products and keeping the products we have up to date as well as looking at new opportunities within the hazardous area environment.
Longer term, it is a question of figuring out where the business is going to go. People talk about fossil fuels disappearing but hazardous area equipment will still be relevant in many industries, for example food and drinks manufacturing, waste water sewers and petrochemicals. But really it is about thinking longer term to where the company should be moving towards, so that it remains sustainable.
Q: And Finally, do you have anything coming up in the pipeline you're looking forward to announcing?
A: Yes, we do