The TR-65 - Our New High Performance, Multi-Functional, Compact LED ATEX Safety Torch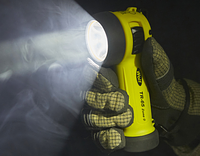 The TR-65 - Ultimate Performance, Multi-Functional, Compact LED ATEX Safety Torch

There was a time when Hazardous Area safety torches sacrificed performance. Those days have now gone with the TR-65, which combines high power and absolute safety. With a market leading light output of 300 lumens, no safety torch shines more brightly!
The TR-65 - a compact, right angle, primary cell, LED safety torch - offers high power and multi-functional performance with a choice of three power modes.
Four AA batteries power three output modes from a slide switched high efficiency microchip circuit:
Slide once, and the light comes on at 10% power; strong enough to see at close range, and be seen by in low light conditions, offering 159 hours of light output (that's more than six days of continuous light)
A second slide of the switch brings up medium power, with a peak of 200 lumens, which provides a highly useable light for 14 hours
Slide again to select full power, 300 lumens maximum light output for maximum visibility when it's needed
This leading edge torch, fully certified to EN and IECEx standards and compliant with the ATEX Directive for use in Zone 0 and 21 explosive gas and dust environments, offers greater user choice in a lightweight, compact package.
Its beam pattern is designed to provide a good balance between intensity and size of spot beam, combined with a wide angle flood of emitted fringe light. This ensures clear illumination of any object being inspected with sufficient surrounding light to enable users to see potential hazards between ground and head height, thus making obstacles visible and avoiding the risk of trips or bangs to the head – a great safety feature.
To prevent being left in the dark, when the battery level gets down to 15%, the low battery level indicator will flash continuously and the beam will be interrupted momentarily once every 5 seconds to give an additional safety warning. The low battery cut-off feature built into the TR-65 will prevent over-discharge and avert the risk of possible battery leakage.
Our products are internationally renowned for their robust and reliable performance in harsh workplaces and weather conditions. Their design, resilient construction and technical materials give unparalleled performance, enhanced by more than two decades of market leading torch manufacture and proven use in the world's harshest hazardous areas.
All the best features of our existing hazardous area safety torch range have been retained in the TR-65 as well as in the new TR-60 right angle torch, a more economical, single power mode alternative. Certified for use in ATEX Zone 1 and 21 explosive gas and dust environments, it provides an impressive output of 200 lumens from the single power setting, combined with more basic functionality.
Both torch models are IP67 rated, more compact and lighter weight than our existing range of right angle torches, with a well-balanced, ergonomic design that is easy to use and operate with gloved hands.
They incorporate two integral lanyard fixings enabling quick and secure attachment to a tunic, tool belt or harness. A flat rear face increases stability whilst a highly robust polymer sprung clip keeps the torch firmly positioned in place, allowing for detachment when required and engineered to 'give' if the torch gets snagged on passing hazards.
The torch is designed for easy user maintenance if required, with spare parts readily available, enabling users to replace the LED module, lens, clip, end cap, cassette or circuit if required.