Use Wolf ATEX safety lights to keep aerosol environments safe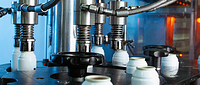 Everyone involved in the aerosol industry is well aware of the potential risks and hazards associated with the dangerous but essential propellants and products used in the aerosol filling process. For example, both butane, which can constitute up to 77% w/w in antiperspirants, and ethanol, which can make up to 50% w/w in hairspray and body spray, present an explosion and fire risk in vapour cloud form.
So, what specific conditions contribute towards an increased risk of fire or explosion? The Fire Triangle is a simple model that explains the three elements necessary to support combustion. In addition to requiring a fuel, such as butane or ethanol in this case, both oxygen in the form of air, and an ignition source such as excess heat or an electrical spark, are required. Bring these three together and the perfect conditions exist for an explosion.

In normal situations, every aerosol manufacturer will take steps to reduce the risk of a fuel, such as a flammable vapour cloud, forming in their facility. However exceptional circumstances can occur. These circumstances, such as spills during aerosol filling or major damage to stock in aerosol warehousing, can result in the forming of a flammable vapour cloud; add an ignition source and a VCE or Vapour Cloud Explosion may well take place (see BAMA - British Aerosol Manufacturers Association - document "Practical Guidance on Assessing the risk of a VCE in an Aerosol Warehouse").
Whilst the likelihood of exceptional circumstances occurring can be low, manufacturers should assess their sites and consider mitigating any risks identified. One such example would be to eliminate the risk of excessive heat and incendive electrical sparks in close proximity to the aerosol filling lines, due to an increased likelihood of leaks and spills of flammable materials. In these circumstances, the requirements of DSEAR - the Dangerous Substances and Explosive Atmospheres Regulations should be considered. A risk assessment would be carried out classify an area where a potentially explosive atmosphere may occur into zones – where the classification given to a particular zone, and its size and location, depends on the likelihood of an explosive atmosphere occurring and its persistence if it does (for more information see the BAMA Guide to DSEAR on the BAMA website, and the ATEX 2014/34/EU Guidelines).
It goes without saying that any lapse in safety procedures could result in serious injuries or, worse still, fatalities. This possibility makes the probable considerable financial consequences of an incident – the cost of repairs to facilities and equipment, lost production, increased insurance premiums and the potential for heavy fines if safety regulations have been contravened – pale into insignificance.
To help prevent any such incident, strict regulations apply to all electrical equipment that is to be used in areas that have been classified as "zones", including lighting.
All lighting products should be suitably explosion-proof and conform to national standards for the zone in which they are to be used. This applies to all types of lighting – whether fixed for permanent, continuous use; temporary, i.e., set up for a shorter period to allow maintenance and repair tasks to be carried out in areas that are usually un-lit (for example, storage tanks when they are being cleaned); or for personal use, for example when inspecting a broken down manufacturing asset. And it's the employer's responsibility to select the correctly certified products for the specific hazards found within the hazardous area zones.
Wolf has been designing and making lighting equipment that has kept users safe in potentially explosive atmospheres for over 100 years. It is now the world leader in the design and manufacture of ATEX certified lighting, specialising in providing safe illumination for use in potentially explosive atmospheres and has the industry's widest range of certified safety lighting – fixed, temporary, and portable for personal use – and can provide a solution no matter what the application or size of the hazardous area.
Says Alex Jackson, Wolf Safety's Managing Director:
"Each company knows its own requirements best, and once those needs have been determined, you can be sure that Wolf, with the broadest range of ATEX certified lighting products on the market today, can provide a safe and effective solution, as well as providing expert advice and ongoing support from our large and vastly experienced technical team."