Wolf Safety opens first overseas office located in Dubai
WOLF SAFETY OPENS FIRST OVERSEAS OFFICE
In March 2018, Wolf Safety opened its first overseas sales office to serve the Middle East and Caspian region. Located in Dubai, it is ideally placed to be at the centre of the region's oil, gas and petrochemical industries. This is Wolf's first permanent overseas branch in its 100 plus-year history and represents a major step in rolling out its strategy for growth for its extensive range of Portable and Temporary Hazardous Area lighting products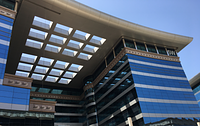 Heading up Wolf's operations in the region is Graeme Aittis, who was appointed Regional Director for the Middle East and Caspian region at the beginning of March. Graeme is a qualified Electrical and Electronic Engineer and has over 10 years' industry experience in the Middle East. Overall, Graeme has over 30 years' experience of the electrical and electronic industries, working globally for a number of very well-known companies in a variety of positions, including technical, sales, managerial and directorial roles. Having been based in Dubai for the last 10 years, he has extensive knowledge and experience of both the industry and the region.
Graeme is prepared for the challenge of driving Wolf's strategy for growth in the region, saying:
"I am very excited at the opportunity to help take Wolf Safety to the next stage in its 100-year history. We have an excellent network of partners in the region and I am looking forward to working closely with them and developing new opportunities particularly in end user and contracting markets across the region."
Wolf's Sales and Marketing Director, Alasdair MacIntyre, added "We're very excited about setting up our first overseas branch. This region is strategically very important to us and we are now in an excellent position to take advantage of those opportunities to further develop our sales of Portable and Temporary Lighting for Hazardous Areas."