ATEX/IECEx LED MINI WORKLITE™ WL-50
The ATEX & IECEx certified WL-50 & WL-50HT light weight mini Worklite™ is an easily carried, rechargeable, high output LED floodlight for use in harsh, remote, hazardous area applications.
WL-50 ATEX Mini Worklite

WL-50 ATEX MINI Worklite Application Image

WL-50 ATEX Mini Worklite

WL-50 ATEX MINI Worklite Application Image
Product Information
WL-50, WL-50HT
ZONES: 1, 2, 21 AND 22
At just over 9kgs, it weighs around half the weight of the WL-80 and WL-85 worklites, and provides the same outstanding level of light.
Building on the success of our market leading Worklites and Floodlites, the WL-50 shares the same strong, robust and proven powder coated die-cast construction as the WF-300XL and WF-250XL.
It is CE marked to the ATEX Directive for safe use in Zones 1, 2, 21 and 22 potentially explosive gas, vapour, mist and dust atmospheres, where a T4 temperature class permits.
Light output - up to 3,100 lumens at source
Light Duration - up to 10 hours
Light weight - just over 9kgs
LED Life - designed to give 100,000+ hours
ATEX & IECEx Certified
The WL-50 & WL-50HT have an 18 LED lamp head which gives over 3100 lumens output at source from the small, lightweight battery. It delivers a piercing spot beam and a flood of lower level fringe light. The LED light source is designed to give over 100,000 hours life.
Battery duration is up to 5 hours on 'high power' and up to 10 hours on 'low power'. In addition to dual light output levels, the control circuit manages the switch function, battery level indicator and the low battery cut-off, maintaining and protecting the battery from deep discharge damage.
The painted powder coated aluminium construction is designed to withstand the rigours and corrosion of harsh industrial and offshore applications.
Mounted in a stainless steel stand, the battery light source and control circuit are within the enclosure giving IP66 and IP67 protection from ingress of dust and water – so as well as being "dust tight," the Worklite™ is protected against powerful jets of water and immersion up to a depth of 1 metre.
The stainless steel stand offers additional protection and allows you to easily direct the light to exactly where it's needed. The lamp can also be used on tripods or attached to flat ferrous metal surfaces with magnet bracket kits for complete flexibility in getting the light to just where you want it.
The lens is impact resistant 6mm toughened glass. For shot blasting and painting applications, the lens can be protected by an ATEX certified disposable antistatic lens guard and in paint applications an ATEX certified antistatic protection cover (1 supplied) is available to protect the light.
Should it ever be required, the battery, circuit and LED can be replaced by a suitably qualified technician.
Light output

Up to 3,100 lumens at source

Lightweight

Just over 9kg

Duration

Up to 10 hours
Features & Benefits
Certification:
ATEX and IECEx Approved for Zone 1/21 explosive gas and dust atmospheres, and OP IS compliant
IP Rating: certified to both IP66 and 67, the Worklite™ is dust tight and protected against powerful water jets and immersion up to 1 metre
Ambient approved:
-20°C to +45°C - WL-50
-20°C to +50°C - WL-50HT
ATEX certified anti-static protective lens guards and paint protection covers available
Light output:
3,100 lumens at source
High power white LED piercing spot beam with flood of lower level fringe light
LED light source 'fitted for life' with 100,000+ hours life.
Light duration:
Up to 5 hours full power
Up to 10 hours half power
Features:
Robust and durable aluminium construction
Toughened glass lens with optional disposable lens guard
2 power levels
Adjustable angle in frame
Rechargeable high capacity battery, fully managed
State of charge LED indication
Supplied with a mains charger with state of charge indication, powered from 100 to 254Vac
Compatible with Wolf tripods and Magnetic Bracket kits
Certified anti-static protection kits available
WL-80
Gas Zone: 1 and 2
Dust Zone: 21 and 22
Power: Rechargeable



WL-80MOD
Gas Zone: 1 and 2
Dust Zone: 21 and 22
Power: Rechargeable




WL-85
Gas Zone: 1 and 2
Dust Zone: 21 and 22
Power: Rechargeable



PRODUCT REFERENCE
WL-50
WL-50HT
Product Description
High Power Rechargeable Battery Worklite™
Code

II 2 GD Ex e ib mb op is IIC T4 Gb

Ex tb op is IIIC T135°C Db

Type of Protection
'e' Increased Safety, 'ib' Intrinsic Safety, 'op is' optical instrinsic safety, 'mb' Encapsulation, tb Enclosure Protection
Area of Classification (Gas)
Zones 1 and 2, Gas Groups IIA, IIB, IIC
Temp. Classification (Gas)
T4
Area of Classification (Dust)
Zones 21 and 22, Dust Groups IIIA, IIIB, IIIC
Max Surface Temp. (Dust)
T135°C
Ambient Temperature
-20°C to +45°C
-20°C to +50°C
Certificate

CML 18ATEX3373X

IECEX CML 18.0199X

Enclosure
Die Cast Aluminium
Lens
Toughened Glass Lens
Beam Type
Spot Beam with a Flood of Low Level Fringe Light
Light Source:
Type
High Power LED
Power / Output
18 x High Power LEDs / Up to 3100 lm at source
Life
100,000hrs+ (Fitted for Life)
Power Source:
Part No.
W-3200
W-3300
Battery Type
Rechargeable Battery, Sealed Gel Lead Acid
Volts
12V
Capacity
10Ah
9Ah
Life
Up to 200 Recharge Cycles
Low Battery Indicator
Yes
Light Duration - High / Low
Up to 5hrs / 10hrs
Up to 4.5hrs / 9hrs
Ingress Protection
IP66 and IP67* to IEC60529
Weight (inc. battery)
9.3kg
Charger Input
100 - 254 Vac
Recharge Time
8hrs
# Cycle life is dependent on ambient temperature. In a 20°C ambient the cycle will be about 200 full cycles, it will be fewer at higher temperature ambients
* Being certified to both IP66 and IP67, the Worklite™ is "dust tight" and protects against powerful water jets and immersion up to 1 metre
All information has been gathered under laboratory conditions, the user must regard the values given as approximate.
Changes may be made to the above specification without notification, details are available on request.
Light Output Diagram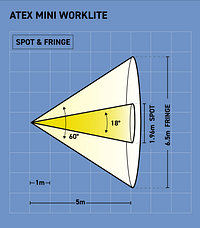 Spot Beam, approximately 18°, with a flood, approximately 60°, of lower level fringe light.
Full Power:
14,146 Lux at 1m
566 Lux at 5m
Half Power:
7,455 Lux at 1m
298 Lux at 5m
Product Dimensions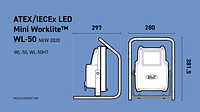 Download file - ATEX & IECEx LED Mini Worklite™ WL-50 Product Information Sheet
Download file - WL-50 Mini Worklite ATEX Certificate
Got a Question?
Want to learn more? Just contact us and we'll be more than happy to help!