TURBOLITE
The Turbolite is a high powered compressed air driven lamp developed from the well-known Wolf Airturbo. Certified for use in Zones 1 and 2 Hazardous Areas, they are commonly used in the oil and petrochemicals industries for tank cleaning and pipeline inspections, offering a safe alternative to low voltage lighting in dangerously wet conditions. The Turbolite is also ideal for use in confined spaces, where flammable gases and vapours can accumulate.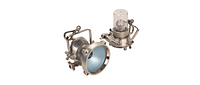 Product Information
A-TL44, A-TL45
ZONES: 1 AND 2
The Turbolite A-TL44 has a bay light fitting comprising a ball glass and protective polycarbonate dome to provide all-round general purpose illumination and a hook provides for suspension of the lamp in the working area or for simple fastening to a folding tripod. The Turbolite A-TL45 has a reflector head fitting for direct floodlight type illumination with a matt reflector giving a diffused wide angle beam.
The housings are cast brass, a spark free material, and the safety hook is also brass, but forged for extra strength and all external parts are nickel plated. Internal components are of durable design making the products suitable for use in the harshest industrial environments. A clean dry air supply is a condition of certification and essential for the efficient running of these lamps, otherwise contamination will deposit into the inside of the lens, reducing illumination levels. Suitable air-line filters can be supplied. Another mandatory requirement is the use of anti-static hose, to prevent the generation of unsafe levels of static electricity.
The 24 volt 250 watt tungsten halogen bulb is available in two types offering a choice of 6,000 lumens for 2,000 hours or 9,000 lumens for 200 hours. Lamps are routinely run in, tested and set to the necessary output prior to despatch and are simple and easy to maintain.
Safety

Spark Free Brass Casing

Power Source

Safe Compressed Air Power

Ease of Application

Full Accessory Range
Features & Benefits
250 Watt Halogen Ultimate Output
Electronic Setting Device
Generator Overspeed Protector
Advanced Internal Topology Rotor Design
Spark Free Brass Casings
Full Accessory Range Available
A-TL44
Gas Zone: 1 and 2
Power: Air
Light: Bay

A-TL45
Gas Zone: 1 and 2
Power: Air
Light: Flood

Product Reference
A-TL44
A-TL45
Product Description
Safety Bay Light Compressed Air Powered
Safety Flood Light
Compressed Air Powered
Code
Ex s II T4
Apparatus Standards
SFA 3009:1972
Type of Protection
"s" special protection
Area of Classification (Gas)
Zones 1 and 2, Gas Groups IIA, IIB, IIC
Temp. Classification
T4
Ambient Temperature
-20°C to +40°C
Certificate
BASEEFA Ex 78209X*
Enclosure
Nickel Plated Brass and Gun Metal
Lens
Ball Glass/Polycarbonate Dome
Toughened Glass (15mm)
Beam Type
All-around 360° Illumination
Flood (Matt Reflector)
Light Source:
Part No.
A-129
(as std)
A-159
(as alt)
A-129
(as std)
A-159
(as alt)
Type
Tungsten Halogen Filled Filament Bulb
Volts
24v
Watts
250w
Output
6000 lm
9000 lm
6000 lm
9000 lm
Life
2000 hrs
200 hrs
2000 hrs
200 hrs
Power Source:
Type
Compressed Air Driven Turbo-alternator
Air Pressure
4.0-8.0 bar
Consumption
0.75m³/min
Ingress Protection
Once pressurised may be used underwater
Weight
7.9kg
12.2kg
*Special certification conditions
A clean dry air supply must be used. Supply hose must be anti-static.
All information has been gathered under laboratory conditions, the user must regard the values given as approximate.
Changes may be made to the above specification without notification, details are available on request.
Light Output Diagrams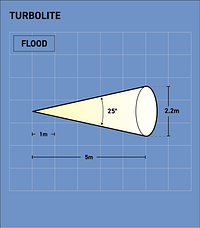 A-TL44 - Ball Glass
Peak luminous intensity at 2.5m 70lux
A-TL45 - Matt Reflector
Flood Beam (approx 25°)
Peak luminous intensity at 5m 950lux
Download file - Turbolite Product Information Sheet
Download file - Turbolite EX (Non ATEX) Certificate
Got a question?
Want to learn more? Just contact us and we'll be more than happy to help!