ATEX HT-500 RECHARGEABLE HEADTORCH
Available from Wolf, the HT-500 Petzl Duo Z1 is a powerful, Zone 1 Rechargeable multi-beam Headtorch for use in Hazardous Areas, featuring four lighting modes and a maximum output of 360 lumens on BOOST mode.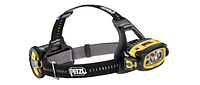 Product Information
HT-500
ZONES: 1, 2, 21 AND 22
The DUO Z1 is a headlamp with a maximum 360 lumens of lighting in BOOST mode that runs on a rechargeable battery. It is multi-beam, and has four lighting modes, making it adaptable to every situation: close-range work, proximity, movement and long-range vision. Featuring the FACE2FACE anti-glare function, the DUO Z1 headlamp allows those working in a group to face each other without blinding one another, enabling them to work more effectively together. It can be worn on VERTEX and STRATO helmets, thanks to the included mounting plates. It meets ATEX zone 1/21 (II 2 GD Ex ib IIB T4 Gb IIIB T135° C Db) certification requirements for work in hazardous areas.
Features & Benefits
Light output/duration/power
Long life LED light source
Multiple beam options for varying work tasks: BOOST mode 360lm, distance vision 140lm, movement 300lm, proximity 170lm & close range work 70lm
Duration at different power levels: 7, 12, 17 & 23 hrs.
Additional 'reserve mode' provides 10lm for 1.5 hrs
Rechargeable Lithium-Ion battery charges in 8 hrs.
Flood, spot and mixed beam options, depending on power setting
Certification
ATEX Zone 1/21
T4 temperature class
IP67 water and dust tight
Features
FACE2FACE anti-glare feature, allows users to face one another without blinding
Robust, reliable and proven materials
Ergonomic design
Compact and lightweight
Large tactile switch (easy to use even when wearing gloves)
Highly robust
Helmet ready with mounting plates included for VERTEX and STRATO helmets
Four Lighting Modes

Including FACE2FACE anti-glare function allowing users to face one another without blinding

Tactile Switch

Easily operational with either gloved or non gloved hands

Helmet Ready

Can be worn on VERTEX and STRATO helmets thanks to included mounting plates
HT-500
Dust Zone: 1 and 2
Gas Zone: 21 and 22
Power: Rechargeable

PRODUCT REFERENCE
HT-500
PRODUCT DESCRIPTION
ATEX Rechargeable Headtorch
CODE
INDUSTRIAL
II 2 GD Ex ib IIB* T4 Gb IIIB T135° C Db
TYPE OF PROTECTION
'ib' intrinsic safety
AREA OF CLASSIFICATION (GAS)
Zone 1
TEMP. CLASSIFICATION (GAS)
T4
AMBIENT TEMPERATURE
-20° C to +40° C
AREA OF CLASSIFICATION (DUST)
Zone 21
MAX SURFACE TEMPERATURE (DUST)
T135° C
CERTIFICATE
17ATEX3009X
BEAM TYPE
Flood, Focused or Mixed
LIGHT SOURCE:
TYPE
LED
OUTPUT
360 lumens
POWER SOURCE:
PART NUMBER
HT-500/ACCU2
TYPE
Lithium-Ion ACCU 2 DUO Z1 battery
VOLTS
3.7 V
RECHARGE TIME
8 h
LIGHT DURATION

Up to 23 hrs

(Reserve mode 10lm for 1.5hrs)

INGRESS PROTECTION
IP67
WEIGHT (INC. CELLS)
370 g
*When the lamp is used, with or without a headband, is worn on a Petzl VERTEX helmet (with or without an eye shield), it it classified as IIA only (gas subdivision including propane). For any other helmet, be sure to do your own risk analysis
Download file - HT-500 Rechargeable Headtorch Product Information Sheet
Download file - HT-500 Rechargeable Headtorch Instructions
Download file - HT-500 Rechargeable Headtorch ATEX Certificate