ATEX LED INSPECTION LEADLAMP
The ATEX LED Inspection Leadlamp SP-600 is a cable-powered, versatile and lightweight handheld light with impressive LED light output, making it ideal for inspection and work activities in Hazardous Areas.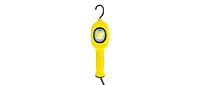 Product Information
SP-600EL/HOFR10, SP-600H/HOFR10, SP-600L/HOFR10
ZONES: 1, 2, 21 AND 22
The SP-600 is CE marked to the ATEX directive and IECEx certified safe for use in Zone 1 potentially explosive gas atmospheres, where a T4 temperature class permits, and Zone 21 potentially explosive dust atmospheres, with a maximum surface temperature of 95°c, as well as group I mining applications.
The high power LED 'fitted for life' light source produces a forward facing high efficiency output of up to 470 lumens by emitting an exceptional, even, ultra-wide angle light; minimising shadows and enhancing visibility to provide optimum illumination for localised, close proximity work.
Lightweight, compact and ergonomically friendly, the Inspection Leadlamp is designed for handheld use, with an "easy-grip" handle for user comfort. With a flexible 360° swivel hook, the SP-600 can be suspended for hands-free use, and magnet mounting accessories are also available.
The unit is extremely robust and durable with impact resistant anti-static enclosure, IP67 rated, and scratch and chemical resistant polycarbonate hardcoat lens, to withstand the rigours of heavy industrial use. Further protection is possible by fitting a stainless steel cage guard for enhanced mechanical protection, fully certified and ideal for use in the most demanding conditions.
The Leadlamp is available in three voltage input ranges: high 90-264VAC for general applications, and low 18-54VAC/20-54VDC and extra low 9-16VAC/DC for use in confined space applications, such as metal tanks.
Certification

ATEX and IECEx Approved

Light Output

Ultra Wide Angle LED Light - Reduced Shadows

Power

Wide Voltage Range
Features & Benefits
Ideal for handheld inspection and work activities in a hazardous area
ATEX and IECEx approved for Zone 1 and 21 explosive gas and dust atmospheres
470 lumen high power 'fitted for life' LED light source
High quality, even, ultra-wide angle LED light, reduces shadows and enhances visibility
Large diffused light source minimises eye discomfort when viewed directly
Lightweight and compact for handheld use
Flexible integrated hook for suspension in the work area
Robust and highly durable enclosure to withstand heavy industrial use
Wide voltage range models
Fitted with 10m HOFR cable as standard
IP67 rated for use in the harshest environments
Group I mining approval
Mounting and protection accessories available
SP-600EL/HOFR10
Gas Zone: 1 and 2
Dust Zone: 21 and 22
Power: Lead



SP-600H/HOFR10
Gas Zone: 1 and 2
Dust Zone: 21 and 22
Power: Lead



SP-600L/HOFR10
Gas Zone: 1 and 2
Dust Zone: 21 and 22
Power: Lead



Product Reference
SP-600H
SP-600L
SP-600EL
Product Description
ATEX LED Inspection Leadlamp
High (H)
Low (L)
Extra Low (EL)
Code
I M2 Ex eb mb I Mb (-30°C to +55°C)
II 2G Ex eb mb IIC T4 Gb IP67
II 2D Ex mb tb IIIC T95°C Db
Type of Protection
'eb' Increased Safety, 'mb' Encapsulation,'tb' Dust Ignition Protection by Enclosure
Area of Classification (Gas)
Zones 1 & 2 Gas Groups IIA, IIB & IIC
Temperature Classification (Gas)
T4
Area of Classification (Dust)
Zones 21 & 22 Dust Groups IIIA, IIIB & IIIC
Max Surface Temperature (Dust)
T95°C
Ambient Temperature
-30°C to +55°C
Certificate

SIRA15ATEX3317X

IECEx SIR15.0115X

Enclosure
High Impact, Anti-Static Polypropylene
Lens
Polycarbonate, Scratch and Chemical Resistant Hardcoat
Light Source
Type
High Power LED
Output
470 lumens (at source) / 403 lumens (from leadlamp)
Life
60,000 hrs
Power Source
Voltage
90-264VAC

18-54VAC

20-54VDC

9-16VAC/DC
Plug
No plug supplied as standard
Cable
10m HOFR 2 core x 1.5 mm²
Weight
1.785 kg
Ingress Protection
IP67
All information has been gathered under laboratory conditions, the user must regard the values given as approximate.
Changes may be made to the above specification without notification, details are available on request
Light Output Diagram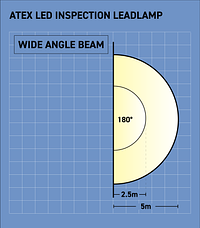 Beam 180°
470 lumens (at source) / 403 lumens (from leadlamp)
Peak Illuminance at 1m 93 lux, 2.5 14.9 lux, 5m 3.72 lux
Product Dimensions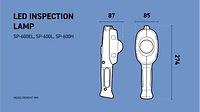 Download file - ATEX LED Inspection Leadlamp Product Information Sheet
Download file - ATEX LED Inspection Leadlamp ATEX Certificate
Download file - ATEX LED Inspection Leadlamp - IECEx Certificate
Download file - ATEX LED Inspection Leadlamp Instructions
Got a question?
Want to learn more? Just contact us and we'll be more than happy to help!